The shoe box
Jumbo Joke: Humor the Way You Like It
This one was sent to me by my wife. I'm wondering if I should worry.
A man and woman had been married for more than 60 years. They had shared everything. They had talked about everything. They had kept no secrets from each other — except that the little old woman had a shoe box in the top of her closet that she had cautioned her husband never to open or ask her about.
For all of these years, he had never thought about the box, but one day the little old woman got very sick and the doctor said she would not recover.
In trying to sort out their affairs, the little old man took down the shoe box and took it to his wife's bedside. She agreed that it was time that he should know what was in the box. When he opened it, he found two crocheted dolls and a stack of money totaling $95,000!
He asked her about the contents.
«When we were to be married,» she said, «my grandmother told me the secret of a happy marriage was to never argue. She told me that if I ever got angry with you, I should just keep quiet and crochet a doll.»
The little old man was so moved; he had to fight back tears: Only two precious dolls were in the box. She had only been angry with him two times in all those years of living and loving!
He almost burst with happiness. «Honey,» he said, «that explains the doll, but what about all of this money? Where did it come from?»
«Oh,» she said. «That's the money I made from selling the dolls.»
the shoe box















where am i this week?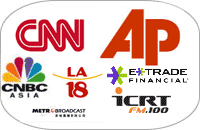 Make sure that you put down any soda or other beverage when listening to my early radio clips otherwise there is a serious chance of laughing so hard it will come through your nose. I am just starting to digitize my old radio reels and it's quite enlightening to recognize the following: 1) what a putz I was; 2) how bad I was starting out; 3) how neurotic I was at 20 years old .

I highly recommend spending a few minutes listening to some classic radio from when I was in Taiwan deejaying on the radio (

) . I have clips from when I started in high school (

) and later when I hit the streets as a foreign correspondent (

) for ICRT in Taiwan. It's quite humbling to hear one's past so vividly.







Having problems with this site? Email the webmeister at olander@yahoo.com

«9quot;Our enemies are innovative and resourceful, and so are we. They never stop thinking about new ways to harm our country and our people, and neither do we.»


«I want to thank the astronauts who are with us, the courageous spacial entrepreneurs who set such a wonderful example for the young of our country.»


«Had we to do it over again, we would look at the consequences of catastrophic success, being so successful so fast that an enemy that should have surrendered or been done in escaped and lived to fight another day.»
Clever Little Bag: Fuseproject and PUMA Revolutionize the Shoe Box!
To kick off an ambitious long-term sustainability plan to reduce its carbon emissions and waste, athletic wear company PUMA has teamed up with world-renowned industrial designer Yves Behar and fuseproject to redesign the shoe box as we know it and set a new industry standard for both packaging and distribution. After 21 months, 2,000 ideas and 40 plus packaging prototypes, this dream team decided to get rid of the box altogether and have introduced to the world a newer, greener way to ship shoes – "Clever Little Bag."
PUMa ships tens of millions of shoes every year, and with the Clever Little Bag, water, energy and diesel consumption on the manufacturing level alone will be reduced by more then 60% annually. What that breaks down to is 20 million Megajoules of electricity saved, approximately 8,500 tons less paper consumed, 1 million liters less fuel oil used and 1 million liters of water conserved. As for transport, the Clever Little Bag will save 500,000 liters of diesel, and by replacing the evil retail shopping bag the difference in weight will save almost 275 tons of plastic. With these kinds of numbers in play it's not hard to see how this new approach to the packaging and distribution of shoes could easily revolutionize the industry.