See on Scoop.it – FeckTV.com England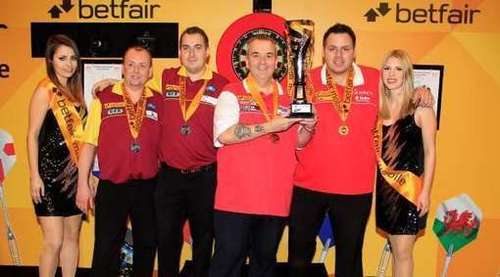 England win the World Cup of #Darts – shock fecking horror. I just hope there's a good launderette in Stoke… It's no great surprise that Phil Taylor and Adrian Lewis retained the World Cup of Darts…
Zebedeerox's insight:
Okay, so darts may be England's last bastion in sports. A game that we dominate and have done ever since its inception.
That's not saying there've not been challengers for the world crown from other countries along the way. There have been and then some.
Alan Evans, Jocky Wilson, Raymond van Barneved, Michael van Gerwen, Jelle Klassen and John Part roll off the tongue as easy as you like.
That's beside the current crop of darters, RVB and MVG as above, Gary Anderson, Mark Webster and Simon Whitlock, all of whom have the ability to win a one-off championship throughout any PDC season.
But one glance at past winners of the World Championship tells you everything you need to know about the global kingpins of darts.
And so it proved again at yesterday's World Cup of Darts marathon day in Hamburg, with the semi-finals being played in the afternoon and the final last night.
But if it wasn't for Phil Taylor's continued brilliance, you'd have to ask would we have even got near retaining the world cup of darts title?
We look at the growing threat from the recognised darting nations and those who gave us a glimpse into their potential over the course of the World Cup of Darts in Hamburg this weekend.
With a fair mix of nationalities in this year's PDC Premier League, which kicks off in Belfast on Thursday, could the title off darts supremos really be about to forsake Olde Blighty?
See on lovefeckinengland.tumblr.com